THE LOVED ONE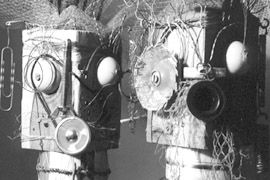 The Loved One began in 1976 by Dryden Hawkins. The first recordings started in 1978 and culminated in the first release "An Example of the Species......" a collection of electronic songs and music. This album was well received and established The Loved One as one of the early pioneers of underground electronic music in England at that time. A devoted following emerged throughout Europe.
The Loved One impressed a DJ called Stevo who promoted electronic music and subsequently set up a record company Some Bizzare Records.The Loved One was invited to submit a track on the first album release on for the label - "Some Bizzare Album" which  featured for the first time Depeche Mode, Soft Cell, The The, The Loved One + others. NME cited The Loved One as "the best here" in their review of the Some Bizzare Record.
The Loved One continued to compose and perform and develop an individual style from there on as a totally independent deep underground electronic band. They use sound sculptures built by the Artist Peter Appleton in their recordings and stage shows.
The Loved One has continued to record and produce music since 1979 and have appeared at major Music Festivals and venues. The Loved One is now restoring and re-mastering all of the back catalogue on a rolling release which started in 2009 with the re-release of  "......Further Observations" - The second album by The Loved One from 1982.
A new album called "SET" is still being worked on and is now seriously behind schedule! This was due to be released in 2007 but now it seems may not be available until 2025!
Since 2005 Dryden Hawkins has worked on several film projects including films by Aldous Eveleigh and Gilles Blaize.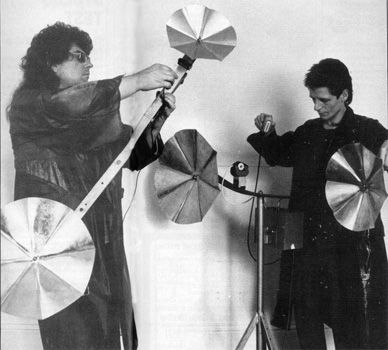 Recordings
"An Example of the Species . . . . . . "  1978 Metaphon
 " . . . . . . Further Observations"  1982 Metaphon
 Locate and Cement  1985 Metaphon
 The Radio Fantazias  1994 Metaphon
 "SET" TBC Metaphon
Compilations
 Some Bizzare Album 1981 Some Bizzare Records
 Life at the Top 1984 Third Mind Records
 Joint Ventures 1998 Ninebar Records
 Guest Sessions
The Flavornaughts "My Inbred Pedigree Chums" 1999 Ninebar Records
Zwang Taboo "Fix it up with Zwang Taboo"       2001 Metaphon
Production
Dryden Hawkins has also recorded & produced three albums of Tibetan Music
Sacred Voice - Sacred Chant 2001 Tibet Foundation Recordings
Shi - Wa 2003 Tibet Foundation Recordings
Legends from Tibet 2008 Tibet Foundation Recordings
Some Notable Performances
"Some Bizzare Tour" 1981
 Oxford World Music Fair 1983
 Diorama Arts Centre 1985
 Huddersfield Contemporary Music Festival 1985
"A Noise in Your Eye" UK Gallery Tour 1986
 "The Recurring Technicolour Dream"  I.C.A. 1997
E.S.A.D. Reims "Folle Semaine" 2005
 "O"  video performance of The Loved One 2010
You can download The Loved One mobile phone app here:-
https://www.reverbnation.com/thelovedone/android
Other Observations : -
http://phoenixhairpins.blogspot.co.uk/2009/07/loved-one-further-observations-reissue.html
http://panoramajournal.blogspot.co.uk/2008/06/reviews-10-condannathe-loved-one.html
http://www.stereokiller.com/newsreviews/article.cfm?intarticleid=9885
http://goatsend.blogspot.co.uk/2009/08/loved-one-further-observations-cd.html
http://musicformaniacs.blogspot.co.uk/2010/11/further-observations-of-punk-days.html